About Us
We began with a love and passion for dogs, in general,
and the magnificent Briard in particular.
We Started with Love and Passion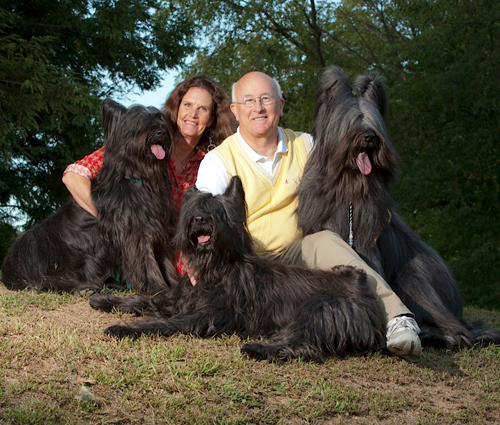 What began twenty five years years ago as a search for a puppy to mend our broken hearts from the loss our dog Fox, quickly developed into a quest to breed the best Briards in the world. This decades-long journey has created a love affair with these incredible dogs that has enriched our lives beyond description and words. Simply put, our Briards are our passion and our friends.
From our home in the high desert of the western Nebraska panhandle we strive to breed dogs who are sound in temperament, true to our breed standard, and at the highest levels of health standards. Our success in this regard speaks for itself. Sendero Briards hold the record for most All Breed AKC Best in Shows by black or grey bitches. Sendero Briards have won multiple Briard Club of America National Specialties, multiple Westminster Kennel Club and AKC Invitational Best of Breeds and multiple number one dogs of the year in both all breed and breed rankings. More importantly, our dogs have enriched the lives of so many great families who simply wanted a family pet.
In our quest to breed superior dogs we have used dogs from breed stock in Spain, England, France, and Slovakia. Building strong partnerships around the world has given us genetic diversity which has lead to improvements in the quality of our dogs over the years. Today, Sendero Briards are known as a standard of excellence all over the world.
At the core of all we do lies a deep commitment to canine health. In addition to health testing our breeding stock at the most stringent levels, we have dedicated ourselves to canine health issues. Merry Jeanne served on the board of the North Carolina State University Veterinary School Foundation and Tommy served on the board of the AKC Canine Health Foundation. Presently, Tommy is a director of the Orthopedic Foundation for Animals, the worlds largest health certification organization for dogs.
Enjoy the photos of our dogs as you peruse the pages that follow. Each of them, as well as all those not photographed, have filled our lives with love, laughter and amazing friendships. All of them have been the loves of our life!

Click here to read a short
History of the Breed
Updated January 28, 2013
Hi, your Javascript is off. For optimal results on this site please enable Javascript in your browser.