BISS Am. Can. Ch. Oh Say Can You See des Endennes du Colmel, HIC TT

(Yank)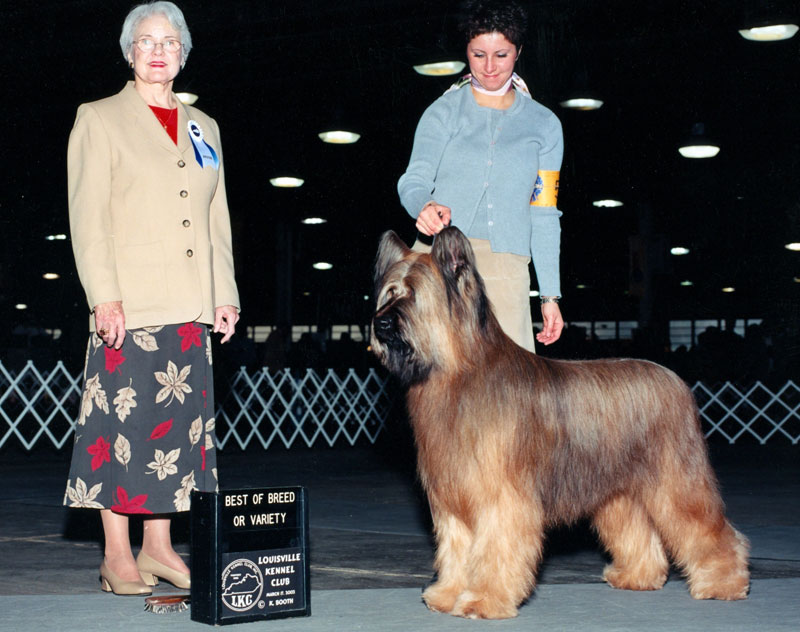 Yank was a gift from our dear friends in France, Herve Blasselle and Many Yannakis. Herve is the President of the Briard Club of France and Yank's breeder. Manu is a past president of the French Club.
From the moment Yank arrived in our home he established himself as a gentle, regal soul—protective, loving, loyal and able to make you melt with his big beautiful eyes. We fell totally in love with our French boy. This love affair deepened for Tommy, who Yank adored.
Yank had a spectacular show career, quickly finishing his championship in the U.S. and Canada. His early Canadian Best in Show Puppy was just an indication of things to come when, in spending 2002 with handler Jimmy Moses, he successfully won many groups, going on to be #1 Briard in 2003. He won Best Briard at the Westminster Kennel Club and a Group 3 in the herding group at the AKC Eukanuba National Championships. Yank won his Specialty Show with Merry Jeanne showing him in what was the largest entry of Briards for that year—a very special win for both!
Following a successful show career, Yank retired to our sofa where he spent his remaining years in total happiness. He loved to kiss newcomers and our poor unsuspecting guests. Yank passed away at age 11 and forever holds a big place in our hearts and memories.
Hi, your Javascript is off. For optimal results on this site please enable Javascript in your browser.